Posts Tagged ICANN52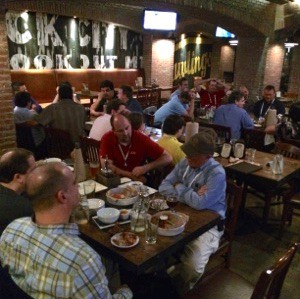 If you will be in Singapore on Monday, February 9, 2015, for ICANN 52 and you work with DNSSEC, you are invited to attend the informal "DNSSEC Implementers Gathering" at 19:30 at a nearby restaurant/pub.  These gatherings bring together people who have implemented DNSSEC in some way to engage in conversations and exchange information and ideas.  We've seen ideas for new projects come out of these gatherings in the past – and they have just generally helped deepen the connections between the community of people involved in getting DNSSEC widely deployed.
SPACE IS LIMITED so please RSVP as soon as possible to [email protected]. We will be cutting off reservations by close-of-business on Thursday, 05 February 2015, but please let Julie know as soon as you can.
This is a unique opportunity to meet with and talk to key implementers, such as NominetUK, CNNIC, JPRS, NZNIC, CIRA, CZNIC, SIDN, and others.  We do ask that in order to participate you should come prepared to say a few words about your experiences.
We are grateful once again to Comcast, NBC Universal and the MPAA in providing funding to pay for this informal gathering.  The three companies sponsored the event at ICANN 51 in Los Angeles (pictured here) and we were able to stretch their sponsorships to cover this gathering in Singapore.  Thank you to the three organizations for helping with what has been an extremely useful event at ICANN meetings.  (We will, though, need new sponsors for ICANN 53.)
There are also two other DNSSEC-related events happening during the ICANN 52 week:
Monday, 09 February 1700-1830, DNSSEC for Everybody:
http://singapore52.icann.org/en/schedule/mon-dnssec-everybody
Wednesday, 11 February 0830-1445, DNSSEC Workshop:
http://singapore52.icann.org/en/schedule/wed-dnssec
If you are in Singapore and available Monday evening, 09 Feb 2015, please do join us for the DNSSEC Implementers Gathering!
P.S. It should perhaps be obvious, but this event will not be available for remote participation nor will it be live-streamed as it involves a group of people sitting down at a restaurant/pub and eating/drinking together.