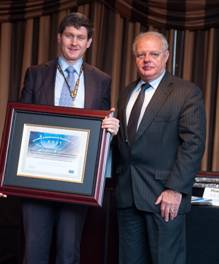 The SANS Institute, which operates the Internet Storm Center, has awarded the 2011 U.S. National Cybersecurity Innovation award to the U.S. Department of Homeland Security's Cyber Security Research & Development Center. The center is part of the agency's Science and Technology Directorate's Cyber Security Division, which sponsors the DNSSEC Deployment Coordination Initiative, which works to encourage all sectors to voluntarily adopt security measures that will improve security of the Internet's naming infrastructure as part of a global, cooperative effort that involves many nations and organizations in the public and private sectors.
The institute announced that the award recognizes the creation of  "a federal cybersecurity research and development program that ensures that the research funded by federal agencies has a practical effect in reducing cyber risk….This has required the R&D community to think beyond the theoretical and to consider a more practical horizon."  It noted that "In particular, DHS S&T's long-term support of DNSSEC ensures that public users of online government services are confident the website they visit and over which they transmit information is an authentic government website and is secure."
"It's gratifying to see our six years of support for DNSSEC recognized in this way," said Douglas Maughan, Ph.D., who directs the DHS division for cyber security R&D. "DNSSEC is a great example of how research can pay off, through a process that continually calls upon researchers to focus on work that can result in real products and real risk reductions.  DNSSEC today is providing increased security for the Internet infrastructure and is impacting Internet operations organizations, private industry, and the U.S. Government."
Edward Rhyne, the division's program manager, accepted the award from White House Cyber Coordinator Howard Schmidt at the National Cybersecurity Innovation Conference in Washington, DC, on October 11.