Archive for category Uncategorized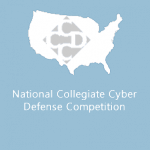 Congratulations to the University of Washington, which took first place at the National Collegiate Cyber Defense Competition (NCCDC) in April—the first to emphasize the use of DNSSEC in its challenges.
Each year, the NCCDC tasks teams of collegiate programmers with defending business networks just as in real life, while Red Teams try to penetrate them. This year's competition involved 126 schools and over 1,500 competitors.  Thanks to input from the DHS S&T Directorate, it marked the first time teams were asked to not only sign the zones on their DNS servers, but re-sign them as if they'd migrated their DNS services to a different operating system or application software.
According to organizer Dwayne Williams, roughly 80% of the competitors had heard of DNSSEC before, but less than 10% had ever actually used or implemented it prior to NCCDC. While two of the teams noted that they would like to see simpler, step-by-step instructions for implementing DNSSEC, all of the teams ultimately thought DNSSEC was a technology they planned to look at more in the future.
Overall team reaction was positive and Dwayne Williams notes that the NCCDC succeeded in introducing DNSSEC to all competitors and making them aware of some of its fundamental capabilities.