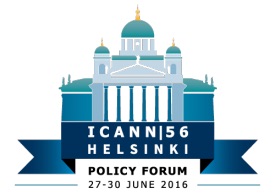 Starting on Monday, 27 June 2016, the ICANN 56 meeting will take place in Helsinki, Finland.
This is the first meeting in ICANN's new shorter "B" format of a "policy forum". As a result, there have been some changes to the schedule of DNSSEC activities (which are expected to return to their regular format for ICANN 57 this fall in Hyderabad):
There is no "DNSSEC for Everyone" beginner session.
The "DNSSEC Workshop" has moved from Wednesday to Monday and is only 4 hours instead of the usual 6+ hours.
The "DNSSEC Implementers Gathering" has changed from Monday night to Tuesday night so as not to conflict with the ICANN reception.
Here is what the schedule looks like:
---
DNSSEC Workshop
The DNSSEC Workshop will take place on the morning of Monday, 27 June 2016. All times are Eastern European Summer Time (EEST), which is UTC+3.
We are grateful to four companies for their sponsorship of this event:  Afilias, CIRA, Dyn and SIDN.
09:15-09:30–Introduction/Maps: Dan York, Internet Society
09:30-10:00–Measurement Survey of Server-Side DNSSEC Adoption: Matthäus Wander
10:00-10:15–Observation of DNSSEC Trends: Geoff Huston, APNIC
10:15-11:15–Panel Discussion: DNSSEC Deployment Challenges: Nick Shorey, Dani Grant, CloudFlare, Ari-Matti Husa, FICORA, Geoff Huston, APNIC
11:15-11:45–KSK Rollover and ZSK Length Increase: Roy Arends, ICANN and Duane Wessels, Verisign
11:45-12:00–DNSSEC Encryption Algorithms: Dan York, Internet Society, and Ondrej Sury, CZNIC
12:00-12:15–DNSSEC: How Can I Help? Dan York, Internet Society, and Russ Mundy, Parsons
12:15-12:30–DNSSEC/DNS Quiz: Roy Arends, ICANN
12:30-13:30–Sponsored Lunch
All sessions will be available for remote participation and will be recorded for later viewing:
We've got some great sessions and we're looking forward to another exciting session! And after lunch you can stay around for "Tech Day" where there will be a range of other DNS-related talks.
---
DNSSEC Implementers Gathering
On Tuesday evening, many of us who have been involved with DNSSEC, DANE or "DNS security" will gather informally at a local restaurant in Helsinki.  We'll have some light food, drinks and conversation.  If you'd like to join us, please email Dan York at [email protected] .
---
And… that will be it! If you are at ICANN 56 please do say hello – you can find Dan York in these sessions… or drop him a note at [email protected] and he can arrange a time to connect.