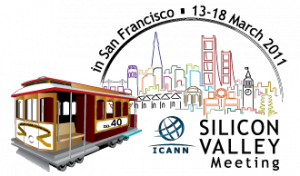 ICANN's Silicon Valley meeting has begun, and features two substantial DNSSEC presentations. Audiocast information, presentations and details can be found at the session links below:
DNSSEC for Everybody: A Beginner's Guide takes place today at 4pm Pacific Time. Presenters from ISC, Nominet and Verisign will walk participants through basic and core concepts of DNSSEC, as well as real-word examples and a sample implementation of DNSSEC, with which audience members can interact.
The DNSSEC Workshop takes place Wednesday, March 16, starting at 8:30am Pacific Time.  DNSSEC deployment plans will be discussed by speakers from Akamai, Cisco, Fedora, Mozilla, PayPal, and Xelerance.  Application Security with DNSSEC and DOSETA will be presented by Brandenburg InternetWorking, and speakers from .nz Registry services and Google will address Innovative Uses as a Result of DNSSEC. Activities from the North American region will be presented by speakers from CIRA/.ca and VeriSign. The session concludes with a discussion of DNSSEC signing services with speakers from Afilias, EURID, ISC, Nominet, Packet Clearing House and Verisign.